Myspace Mood: Too Many
Dakar, Senegal
Well, first of all I must apologize for not blogging for so long! I saw a lot of you over the summer, which is the way I'd rather stay in contact, but I notice that my last post was several months before we even left Africa last time! One of the things that I am hoping to improve this time is keeping my blog updated more thoroughly. I am getting ahead of myself though...
For anyone who did not know (those of you I may not have seen this summer), Emily and I decided before leaving Bissau in April that we would return after the summer (aka right now) for some more time to continue developing the computer program that started last trip and for Emily to teach English again. She really enjoyed it last time and I am hoping that this trip will be no different.
We had originally decided to stay for three months this time, so that we could be home for Christmas (we have yet to see my side of the family on Christmas eve or day since we got married). However, as we began to quantify exactly what it was that we wanted to accomplish with the computer training program, we came to the conclusion that we could get it done in the three months we had planned but that it would come at the cost of not having any free time and not seeing each other much – similar to the way we allowed January-April of last trip to unfold. After weighing pros and cons we decided it was worth the extra time to not be in a hurry all the time. So we talked about padding the time by two months which would put us back in the States around late February. This would have made Emily less useful since the English semester at the school runs from January to April and there will be no Americans at the center to take over her class in February when we had thought to leave. Finally, after thinking of a few more computer training things that I would like to get done, we decided to stay for both semesters, making our itinerary almost identical to last time. Almost the same, but with a very fun twist. We will leave Africa in mid-April when the semester ends, and as it happened, the cheapest flight home connected through Germany. I've been interested in exploring Western Europe for a long time but never had the combination of time, money, and initiative to get it done. So I plugged a few changes into Expedia and figured out that we could have a multi-day layover in Germany with no increase in the cost of the plane tickets! The end result is a 19-day layover where we're hoping to explore some of Germany, Prague, Austria, and possibly Milan. We'll have to see how much our savings allow us to do, but no matter what we end up doing I'm looking forward to it!
Now that we have a plan firmly in hand, here we are back in the Dakar, Senegal airport (with all of our bags so far, a divine act in itself!) waiting out a 12 hour layover on the way to Bissau. (The plan is firmly in hand as far as I am concerned, though some of us have different definitions of a good plan than others. Here's a picture of Emily in the Detroit airport yesterday reading through guidebooks to try to plan the days of our eight-months-distant European exploring trip, haha...). We will (if all goes as planned) arrive in Bissau tonight about 7pm local time (3pm EST). Emily will begin teaching next week and we (I'm sure) will have plenty (other than nursing our jet lag) to attend to before then.
After thinking about the last trip (term, time, whatever you call it) and considering what we are hoping to accomplish with this trip, I have come up with a few goals. I'm not a big "goaler" – I hate New Years resolutions, statements like "I always..." and "I never...", five year plans, and the general tendency of American society to over think everything and plan to do what they think everyone expects them to do, missing out on what they should do. I understand the intentions of those things, but I think the temptation to live for the plan instead of living for the purposes of the plan is just too strong! However, in this case there are a few things in my mind that I want to change this time around. So in specific cases I guess I'm ok with a targeted list of goals. So here are a small list of goals/purposes for this time in Bissau:
Roll out three new intermediate level computer classes – I'm looking forward to these because they'll be more challenging for the students than what we did last time.
Get the teaching portions of the computer classes video'ed and put into Powerpoints to make sure the quality of the lessons doesn't fall off when I and this directly trained group of teachers move on. This is going to be a TON of work, but it will be worth it.
Continue training the computer teachers about network maintenance and most importantly how they can teach themselves new programs in the future.
Network improvements – A lot of the 233 lbs of checked luggage we have is new computer equipment. We are expanding the network capacity, speed, and most importantly redundancy to make sure things will keep running smoothly for a long time.
Time at home – Em felt a bit abandoned for the last part of the last trip because the computer work occupied so much of my time. Spreading the trip out will make it so I don't have to pick between slacking at work or slacking at home this time. (No, slacking at both isn't what I'm saying, lol... I am working on 3 hours of sleep in the last 48, so cut me a little slack!)
Get out! We saw less of Guinea Bissau in eight months last year than most 10 day vacationers would because we didn't allow ourselves enough time for anything but working at the center. There is a lot more to see and we're going to make a point to take trips to some different places in the interior and back to the islands again. We're also hoping to spend a few weekends exploring the neighboring countries – we'll see how that part works out.
Pictures! Last time I didn't bring much camera gear because I didn't know how safe it would be. As a result (combined with the no free time thing) we didn't end up with much to show you guys. This time I have a good arsenal of equipment, including a tough pocket sized point and shoot we're going to take just about everywhere, and also a video camera, so we are hoping to have a lot more to show you! Stay tuned!
So there you have it, the seven habits of highly effective Guinean missionaries, haha... This summer it was nice to catch up with friends and family, to enjoy good food and hot showers, and to have a fun graphics design job (at Cayman Chemical) – but also in other ways the roughest three months of my life. I am excited to get to work but I don't feel like I have anything left to offer. I am clinging to the promise that God can do the most with us when we are the least. I wouldn't have chosen to have a wounded heart, but I am glad for a God who is willing to use us and a wife who loves me.
I appreciate all of the support from you guys back home. Going forward, we really need your prayers for health, safety, and for God to continue to pull us closer. We are missing you all already! (Well, maybe not Em so much, as she has been asleep most of the trip, haha... That's not true, but it makes a really good story, and since I have pictures to back it up... what can she say, right?)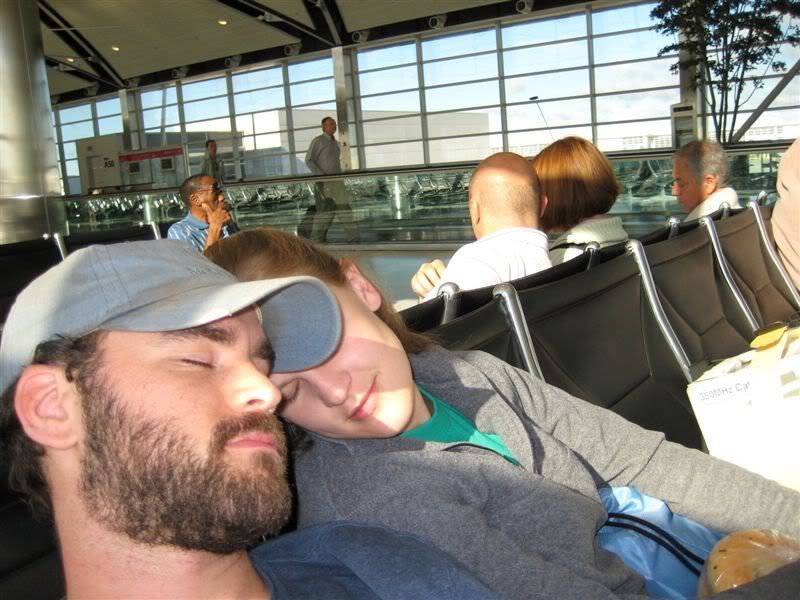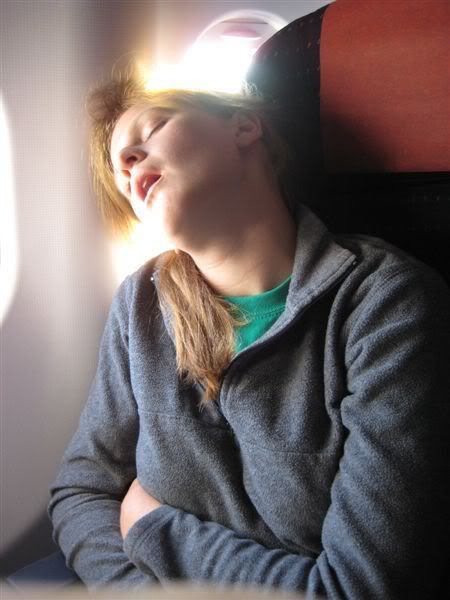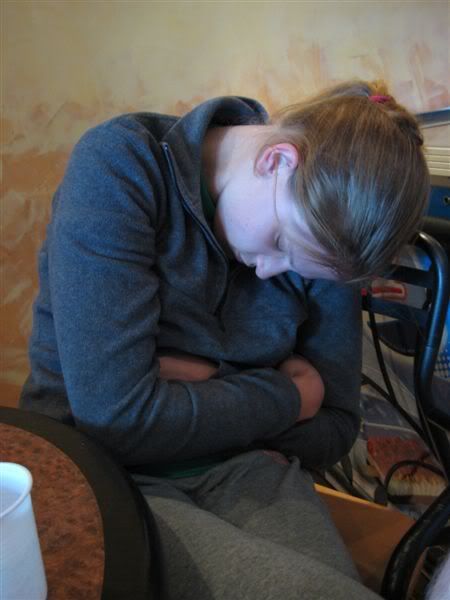 Alright, thanks for keeping up on us, we welcome emails so we can stay connected to you too!